IELTS Writing Task 1 #120
IELTS Tip
Note that the number of words in this sample is 178. Always write at least 150 words but do not go much over this figure as you will not get any extra marks and you will use up time which you can better spend on doing Task 2.

Related Topic: Timing and word length in the writing module
You should spend about 20 minutes on this task.
The maps below show the changes that have taken place at Queen Mary Hospital since its construction in 1960.
Summarise the information by selecting and reporting the main features, and make comparisons where relevant.
Write at least 150 words.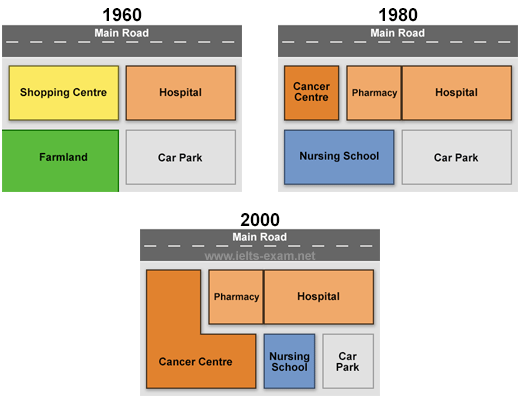 Model answer
The diagrams show Queen Mary Hospital at three different stages in its development: 1960, 1980 and 2000.
In 1960, the hospital was built close to a main road and next to a shopping centre. A large area behind the hospital was turned into a car park, while the area behind the shopping centre was farmland.
By 1980, the shopping centre had been demolished in order to make way for two additional hospital building which became a pharmacy and a cancer centre. Furthermore, the hospital gained the farmland and converted it into a nursing school.
In 2000, the main hospital building remained unchanged but the cancer centre was extended to cover the entire nursing school. As a result of this, the original car park was divided into two so that it provided a smaller car park and a small nursing school.
During this period, the hospital has increased in size and, in addition to a new nursing school, a cancer centre has been created and extended. Hence the capacity of the car park has been reduced by a half.
(178 words)